Dogodki
Literarni megabajti s Simono Škrabec: o Renée Vivien
ŠKUC – Kulturni center Q vas v okviru BuQev
v ponedeljek, 10. oktobra 2011 ob 19.00, ponovno vabi na Literarne megabajte v Klub Tiffany.
Ob izidu slovenskega prevoda romana Pasijon po Renée Vivien (ŠKUC Lambda, 2011), katalonske pisateljice in pesnice Marie Mercè-Marçal se bomo o avtorici, delu in prevajalskih izzivih pogovarjali s prevajalko Simono Škrabec. Obenem bo predstavljen tudi roman Renée Vivien, Prikazala se mi je ženska, ki bo v slovenskem prevodu v kratkem izšel pri zbirki Vizibilija.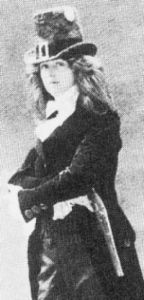 Simona Škrabec (Ljubljana, 1968) od leta 1992 živi v Barceloni, kjer je doktorirala iz literarne teorije. V katalonščini so izšli njeni prevodi Jančarja, Pahorja, Debeljaka in Kiša ter mladinska dela Svetlane Makarovič. Slovenske bralce je med drugim seznanila s Caldersom, Foixem, Ferraterjem, Todojem, Moncado in Cabréjem. Prevaja prozo in eseje iz angleščine. Pri zbirki Lambda je leta 2009 izšel tudi njen prevod pesniške zbirke Marie Mercè-Marçal, Staljeni led.
Literarni večer bo vodila Špela Bibič.
Dogodek je del projekta Knjižni molj in programa Ljubljana – svetovna prestolnice knjige 2010.
Dogodek sofinancirata Mestna občina Ljubljana in Javna agencija za knjigo.
* * * * *
Literary Megabytes with Simona Škrabec: on Renée Vivien
As part of the Buqve programme, ŠKUC – Cultural Centre Q
once again invites you to Literary Megabytes on Monday, 10 October 2011, at 19:00 at club Tiffany.
At the publication of the Slovenian translation of the novel La passió segons Renée Vivien – Pasijon po Renée Vivien (ŠKUC Lambda, 2011) by the Catalan author Maria Mercè-Marçal, we will be talking to the translator Simona Škrabec about the author, the book and its translations challenges. The literary evening will also feature the presentation of Renée Vivien's novel Une femme m'apparut – Prikazala se mi je ženska, soon to be published in Slovenian translation by ŠKUC Vizibilija.
Simona Škrabec (Ljubljana, 1968) obtained her PhD in Literary Theory in Barcelona, where she lives since 1992. She has translated several authors into Catalan, among them Drago Jančar, Boris Pahor, Aleš Debeljak and Danilo Kiš, as well as works of children's literature by Svetlana Makarovič. She has acquainted Slovenian readers with Pere Calders, Josep Vicenç Foix, Gabriel Ferrater, Lluis Maria Todó, Jesús Moncada and Jaume Cabré. She translates prose and essays from English. In 2009, her translation of Marçal's poetry collection Desglaç – Staljeni led was also published by Lambda.
The literary evening will be hosted by Špela Bibič.
The event is part of the Bookworm project and the Ljubljana – World Book Capital programme 2010.
The event is co-financed by the City of Ljubljana and the Slovenian Book Agency.