Dogodki
Prva petletka LFU: dogodki v aprilu 2015 /The first five years of LFU: events in April 2015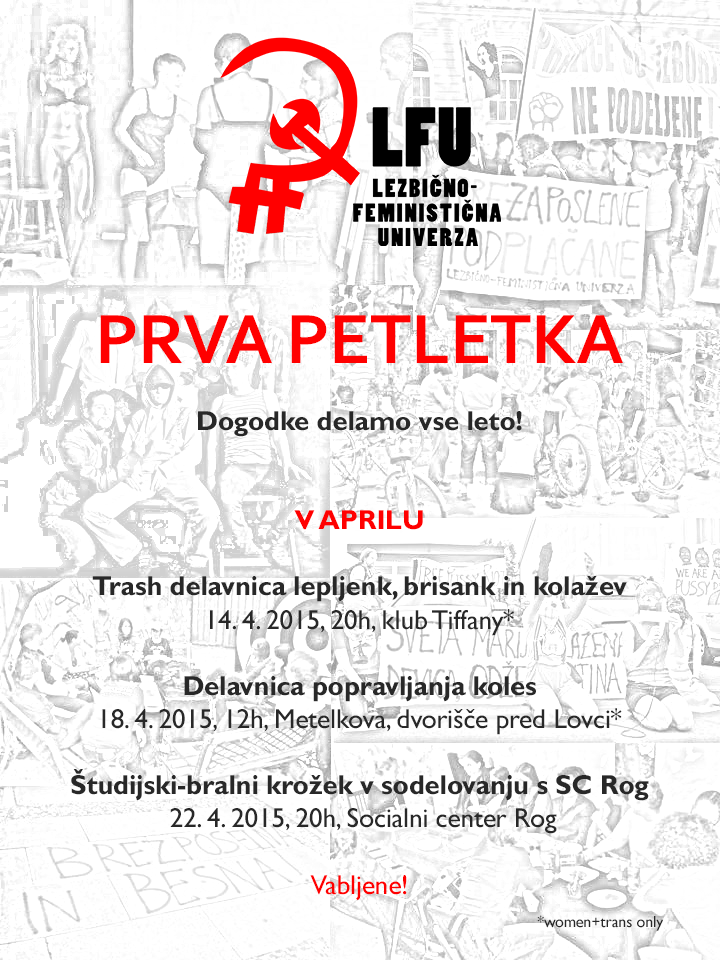 Lezbično-feministična univerza (LFU) praznuje prvo petletko! V marcu 2010 smo organizirale prvi dogodek, od katerega so se zvrstila številna srečanja vse do danes. Razpravljale smo na bralno-študijskih večerih, pile pivo, si pridobivale različna znanja na delavnicah, delile tako lepe kot grenke lezbične in feministične izkušnje, se smejale, pisale na skupinskih trashih, pripravljale razstave, se dobivale na filmskih večerih, se seznanjale z glasbenimi ustvarjalkami na glasbenih poslušalnicah, se podpirale, se povezovale s sestrskimi feminističnimi iniciativami, izdelovale transparente, grafitirale zidove za 8. marec, zasnovale in korakale na feminističnih shodih, se družile na piknikih in skupaj počele še veliko drugih reči.
V aprilu 2015 vas v v sklopu Prve petletke v Lezbično-feministični univerzi tako vabimo na:
– Trash delavnico lepljenk, brisank in kolažev – v torek, 14.4.2015 ob 20h v klub Tiffany (ŠKUC-Kulturni center Q)
– Delavnico popravljanja koles – v soboto, 18.4.2015 ob 12h, dvorišče pred stavbo Lovci na Metelkovi (v primeru slabega vremena bomo delavnico prestavile na nedeljo, 25.4.2015 ob 12h)
– Študijski-bralni krožek v sodelovanju s Socialnim centrom Rog – v torek, 22.4.2015 ob 20h v SC Rog.
Vabljene!
Lezbično-feministična univerza zagotavlja varen prostor, zato sta prva dva dogodka odprta le za ženske in trans osebe; dogodek v Socialnem centru Rog je odprt za vse.
*Oblikovanje plakata: Princessdesign.
*******************************************************************************************************
Lesbian Feminist University (LFU) has a 5th anniversary! From March 2010 on, when we had organised our first event, there have been many events going on! We have discussed at study-reading evenings, drank beer, obtained different knowledge at workshops, shared our positive as well as negative lesbian and feminist experiences, laughed out loud, written at group trash writing events, prepared exhibitions, watched and debated on movies, listened to female musicians, supported ourselves, cooperated and made connections with sister feminist initiatives, made paroles, written graffiti for March 8th, co-planned and walked at feminist protests, socialised at picnics and many more.
In April 2015 of the "first five years of LFU" we are inviting you to the following events:
– Group trash workshop on collage-making: sticking, wiping, uniting etc. – on Tuesday, April 14th 2015 at 8 pm at club Tiffany (SKUC-Cultural centre Q), Metelkova City.
– Bicycle repair workshop– on Saturday, April 18th 2015 at 12 a.m., at yard in front of Hunters at Metelkova City (in case of bad weather, the workshop will be organised on Sunday, April 25h 2015 at 12 am).
– Study-reading group in cooperation with Social Centre Rog – on Tuesday, April 22nd 2015 at 8 pm at Social centre Rog, Rog Factory.
Warmly welcome!
Lesbian Feminist University provides safe space, thus the first two events are open only for women and trans people; event at Social Centre Rog is open for all.
*Fyler design: Princessdesign.