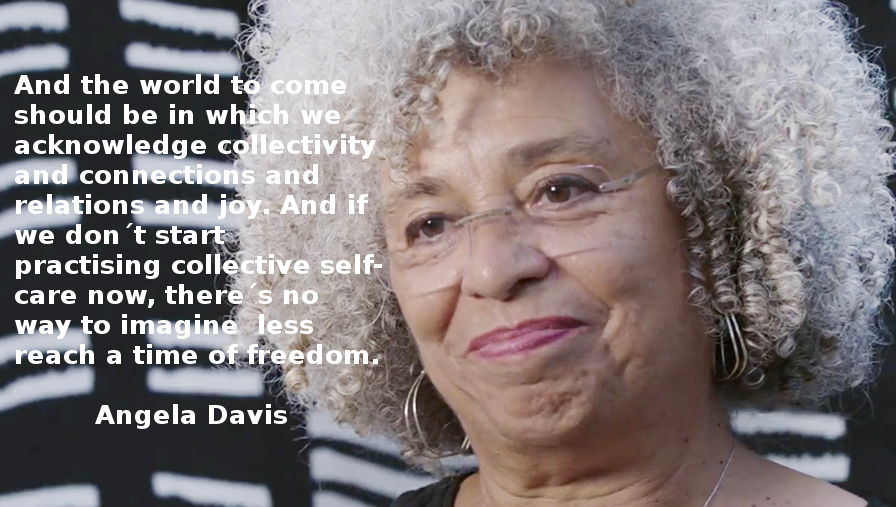 Dogodki
Radikalna skrb zase št. 3
Lezbično-feministična univerza
vas vabi v sredo, 16.10.2019 ob 18.00, na izkustveno delavnico o radikalni skrbi zase št. 3 (angl. radical self-care). Dobimo se na dvorišču Avtonomne tovarne Rog pred glavno stavbo.
Navdih bomo črpale iz izsledkov in praks lezbičnih in feminističnih aktivistk v kolektivni skrbi ter ljubezni do samih sebe.
Zaradi lažje izvedbe delavnice vas vljudno vabimo, da svojo udeležbo predhodno potrdite po naši e-pošti lezfemuniverza(afna)gmail(pika)com. Dogodek bo potekal v slovenščini in/ali angleščini.
Delavnica je odprta za lezbijke, ženske, trans in nebinarne osebe. Vir slike in citata.

***** ENGLISH **************************
Lesbian Feminist University is inviting you
on Wednesday, October 16th 2019 at 6 pm to the Radical self-care workshop number 3.
We are meeting in the central yard of Autonomous Rog Factory in front of the main building.
Our inspiration will originate from lesbian and feminist activists´ insights and practices how to collectivelly take care and love ourselves.
Due to easier organisation of the workshop we kindly ask you to let us know about your attendance via email lezfemuniverza(aphna)gmail(dot)com. The event will be in Slovene or/and English.
Workshop is open only for lesbians, women, trans and non-binary persons. Origin of the pic and quote.